+35% PAX growth over covid
period
5 markets Targeted: UK, DE, FR,
NORDICS
5 Specific Demographics
Targeted
The Challenge
As tourists have restarted travel post-pandemic we aim to promote Hungary destinations and experiences to potential travellers to generate tourism and awareness for the first restriction-free Autumn season. Hungary has many incredible destinations and a wide variety of activities, so we aim to inspire travellers with these wonders to visit beyond the magnificent capital.
As users start travelling again, it's important to get them engaged with all the possibilities while giving a sense of safety and openness post-pandemic. Different target audiences and age groups need to feel comfortable with everything this open destination has to offer as well as know the possibilities for different travelling styles.
"Inspire travellers with these wonders to visit beyond the magnificent capital".

The Strategy
Channels
We designed a 360º Digital campaign, covering all possible access points for our users who are in-market and looking for inspiration: display, content, native, retargeting, social media, and email.
Awareness
The pandemic has increased the interest in smaller destinations outside big cities. In this campaign we promoted Budapest as the vibrant centre of Hungary and also encouraged users to know more about the amazing countryside, wine region, smaller cities and nature activities.
Targeting
Defined age groups and travel styles, created audience segments to engage these users throughout the funnel.
Custom Action
During restriction time, we created a custom Social Media action where the Hungarian Tourism Agency could speak directly to our users, communicating the wonders of the destination and keeping them inspired for when they could travel again. This kept our users interested and engaged.
Performance
To increase the visitor flow to Hungary and communicate the destination is open, we focused on targeting short haul markets taking into account the short booking window.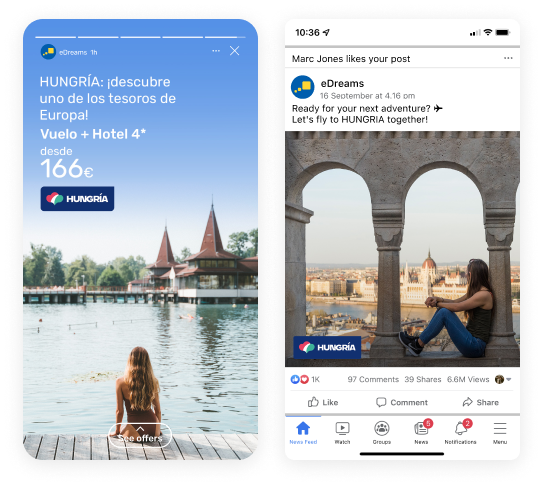 Results
The promotion for Visit Hungary has received a great interest from the public, both in terms of awareness and performance. The goal of showing Budapest and the different regions of the country were well fulfilled with high impact placements and very visual formats. Our sales to Hungary during the campaign reached over a high level of overnights in destinations in the targeted markets, helping make Hungary a popular destination for Autumn breaks.