Who's

Our Audience
We offer you a unique position in the market in terms of our ability to target your marketing actions, thanks to the data collected from our travel brands..
We currently have a capacity of over 40 million unique users and our 1st Party Data is collected and updated daily.
That's why we have the ability to plan, structure, and execute our digital airline advertising marketing campaigns with high performance and success.
For that reason, we always work hand in hand with our airline advertising partners to target the most relevant audience for their brands and get the best results from their campaigns.
Display marketing
Deliver your message to the right user at the right time.
We create compelling and visually engaging airline advertising designed to capture the attention of your target audience. We make every impression count by placing the message at a key step in the user funnel.
Plus, you get technical support throughout the campaign process. Your brand is supported by a dedicated account management and advertising team that works daily to optimise every campaign. Our commitment is to make sure that your brand message impacts, attracts, and inspires travellers.
To impact and inspire travel is our goal and to achieve this we offer up to 5 unique IAB advertising placements across visual and strategic spaces.
Retargeting
Convert in-market users into travellers who prefer to travel on your airline.
If you want to help convert users to your airline and you want to reverse your abandoned carts, retargeting is the ideal strategy for you. With retargeting, you can reach your target market users during the purchase decision process and bring them back to your landing page.
This way, we give you a second chance to recapture undecided users with your inspirational and travel offers in different formats such as Display, Social Media, Wallpaper and In-article.
Do you think you've hit the nail on the head with the solution you need? We are at your disposal to help you to generate more engaged travellers with your brand.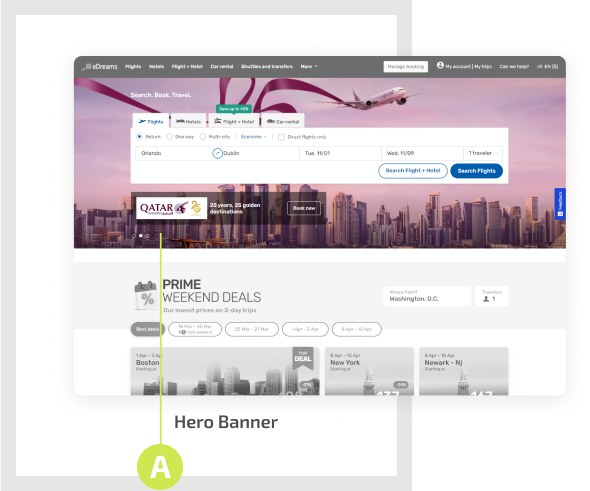 Native Ads
Reach the widest audience with our look and feel.
Our Native Homepage Advertising allows us to showcase your brand and special offers to users who reach our Homepage looking for inspiration. Appear first shot and make an impression.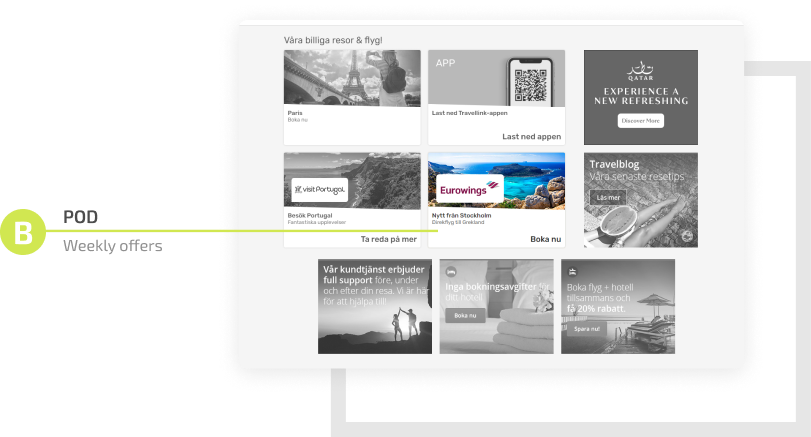 Email Marketing
Engage with our users in their inbox.
Every day we look at our email inbox. It's a habit we all have at the beginning, during and at the end of the day. That's why it becomes a unique opportunity to impact new users who don't yet know or haven't entered your sales funnel.
Thanks to our technology, you can target millions of inboxes of new users based on their searches and profiles. Segment your campaigns according to your target audience to make your campaign as targeted as possible to travellers who love your brand and don't know it yet.
Send individual dedicated emails to inspire your brand and offer or insert display advertising into our own corporate communications.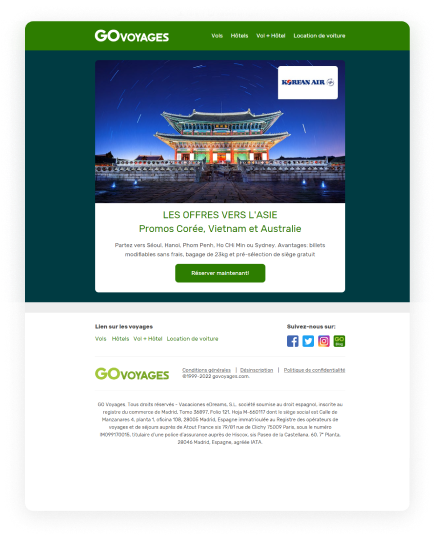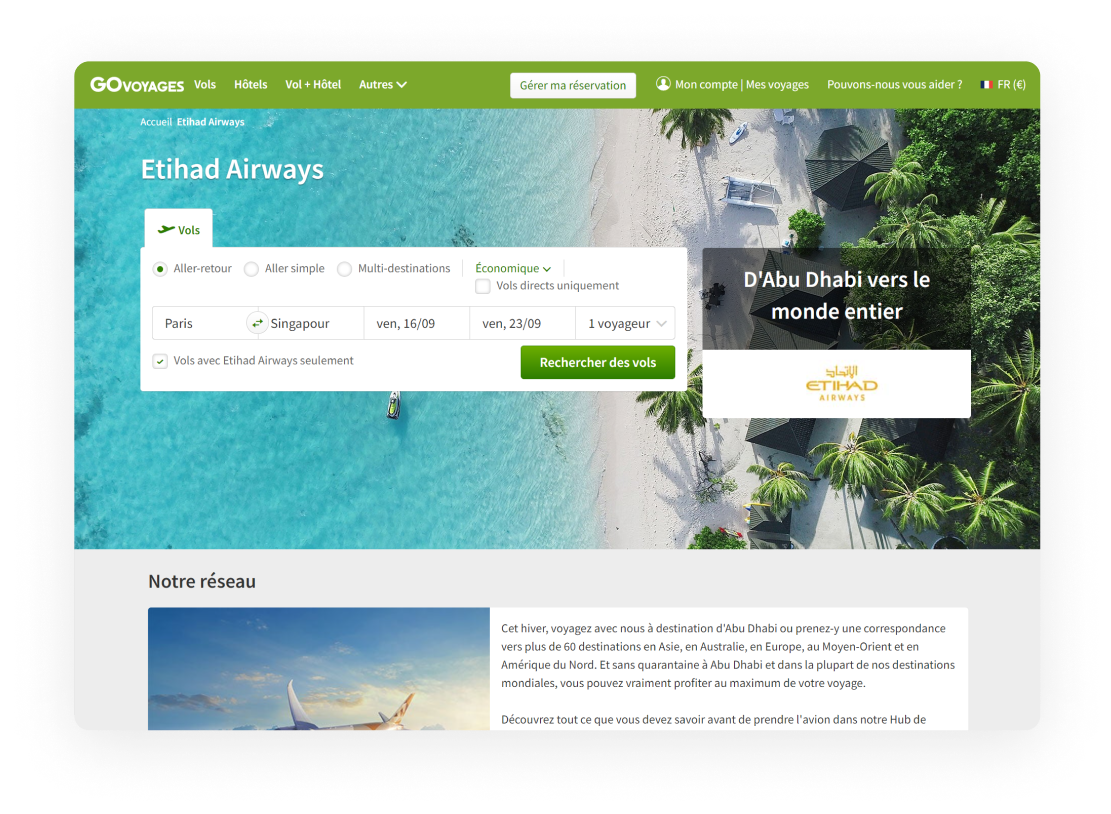 Content marketing
Show your brand in an attractive way with effective airline advertising.
Branded content is one of the most important keys to digital marketing. It is about generating a good inbound marketing strategy to attract new travellers to your airline.
Our Branded Content strategies create an exclusive and customisable space for your airline on our websites. With this airline advertising strategy, you will have the option to highlight the wonders and unique selling points of your brand in a privileged space, where the user will feel aligned with the values of your airline to choose your brand with good criteria.
In addition, you will have all the benefits of appearing on the eDreams blog, with articles dedicated specifically to your airline. Communicate specific news, generate traffic to your website through our social media channels and the most accurate airline marketing to attract your airline to digital travellers.
Co-branded
Join efforts with a partner.
Run joint airline advertising promotions to reach shared target audiences together and increase value by partnering with another brand.
We help you join forces to double your brand push with our team. Co-branded digital marketing campaigns help both parties join forces to achieve common goals. A win-win that can boost you to add impacts from new travelers and digital users who had not tried your brand before.
Run digital campaigns and joint airline advertising promotions to reach a shared target audience together. Increase the value of your airline by partnering with the world's first online travel agency.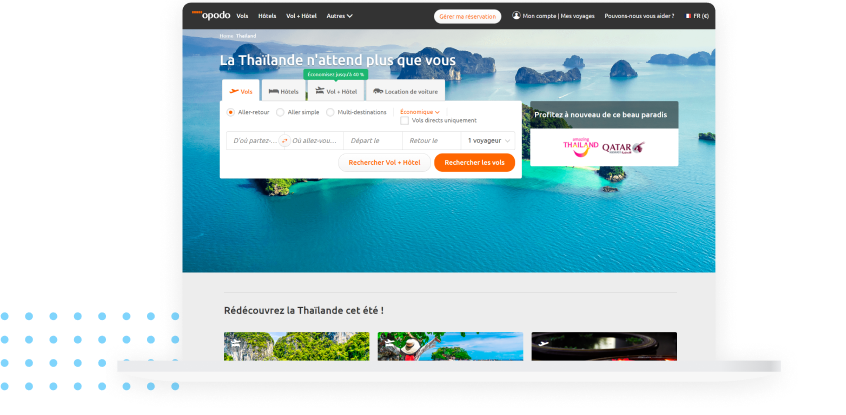 We have the capability to design new advertising products for specific needs. Let us know what you are looking for!
Contact us