+3,8% Social Media Audience
Extension CTR
+3% PAX increase versus
pre campaing
+89% Solus Newsletter
Open Rate
The Challenge
Iceland's new low cost carrier PLAY expanded operations through transatlantic flights between Iceland and the United States as of the spring of 2022, including to Baltimore, Boston and New York.
While passengers can use these flights to travel between the United States and Iceland, PLAY's business focus was based around connecting travellers to other points in Europe, including Amsterdam, Berlin, Copenhagen, Gothenburg, Lisbon, London, and Paris.
PLAY Airlines wanted an opportunity to position themselves as the first choice airline in the U.S. market to connect and engage with travellers while promoting its flight routes and connecting them to the most preferred European holiday destinations.
"Position themselves as the first choice airline in the U.S. market."

The Strategy
PLAY Airlines was able to draw business insights from eDreams' first-party qualified data and could identify in advance that US travellers were already booking their Summer Holidays to Europe. The PLAY campaign entailed the creation of a destination-oriented Microsite which featured PLAY various flight route offerings and was designed to function as both an inspiration and a booking platform.
Moreover, the campaign was also supported by various Media Solutions such as onsite display advertising, Social Media posting and a dedicated Newsletter, allowing PLAY to reach specific travellers through strategic targeting.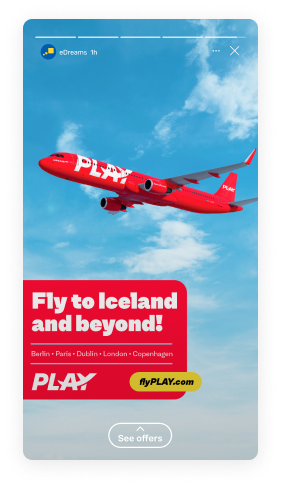 Results
Despite the travel industry's ongoing turbulence, PLAY illustrates the rising budget carrier boom that has been rocketing throughout the pandemic.
The campaign resulted in more sales and revenue and especially impressive was the Open Rate of 89% of the dedicated PLAY Newsletter. PLAY positioned itself with 81,25% of the market share.