+30% PAX growth over covid
period
33% Open rate Solus
email
The Challenge
Malta is well known as a summer destination for its beaches, its friendliness, its privileged location, but by limiting visits to Malta only to summer visitors are missing out on everything these islands can offer during winter time. From exciting lively culture to ancient history, the islands provide activities and entertainment for a variety of travel styles.
Weather is mild throughout the season making it an ideal break for German travellers who are looking for relaxation, good food, exciting activities and outdoors. The goal of this promotion is to increase awareness and inspire relevant audiences from Germany to choose Malta for their winter breaks.
"Inspire relevant audiences from Germany to choose Malta for their winter breaks".

The Strategy
In order to increase German visitors to Malta in winter season, We targeted our relevant audience in Opodo.de inspiring users who were looking for winter sun or competing destinations for gastronomy and relaxation in order to showcase the wonders of Malta during this season.
We highlighted the destination in our Homepage with special offers of flight+hotel as well as retargeted the interested users through display, Social Media and email marketing.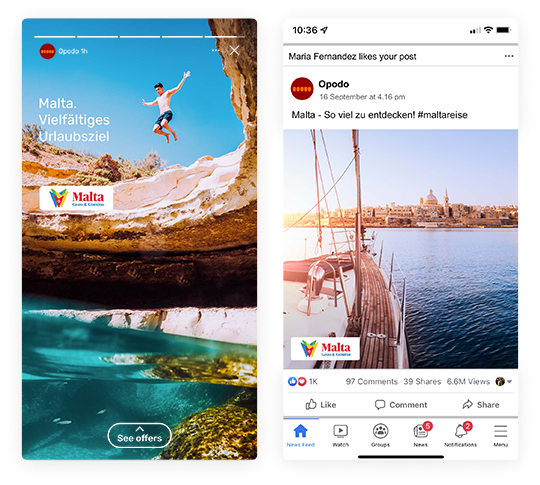 Results
The results for this promotion were great in terms of performance and awareness, We saw an increase of 12% in German visitors to Malta for the low season compared to pre-pandemic times in 2019. We reached over 1.000.000 in-market users of the target audience, showcasing to them this unique destination and were able to communicate the activities to enjoy Malta outside the summer season.