Media Services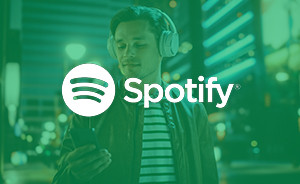 Top trending products!
Audio ads on Spotify retargeting eDreams ODIGEO users, with the audience segment selected for the campaign.
Inspiring travellers:
Panama's riches to discover
We work with destinations and airlines to help them reach the right audience and their performance goals. One of the destinations that we are helping to achieve its marketing goals (Increase of qualified and sustainable passengers) is Promtur Panamá. In this instance we are delivering a campaign positioning Panamá as an experience rich destination: Sun, beach, culture and health and safe for travellers from Spain, France and Germany. Consolidating the growth in demand in European markets and increasing the number of passengers to Panama together with an increase in the average stay.
The campaign will be live until February 2023 in 3 of our core markets, where we are absolute market leaders: Spain, Germany and France. It is a campaign with a strong weight of Branding but also oriented to performance looking to inspire the quality and sustainable traveller.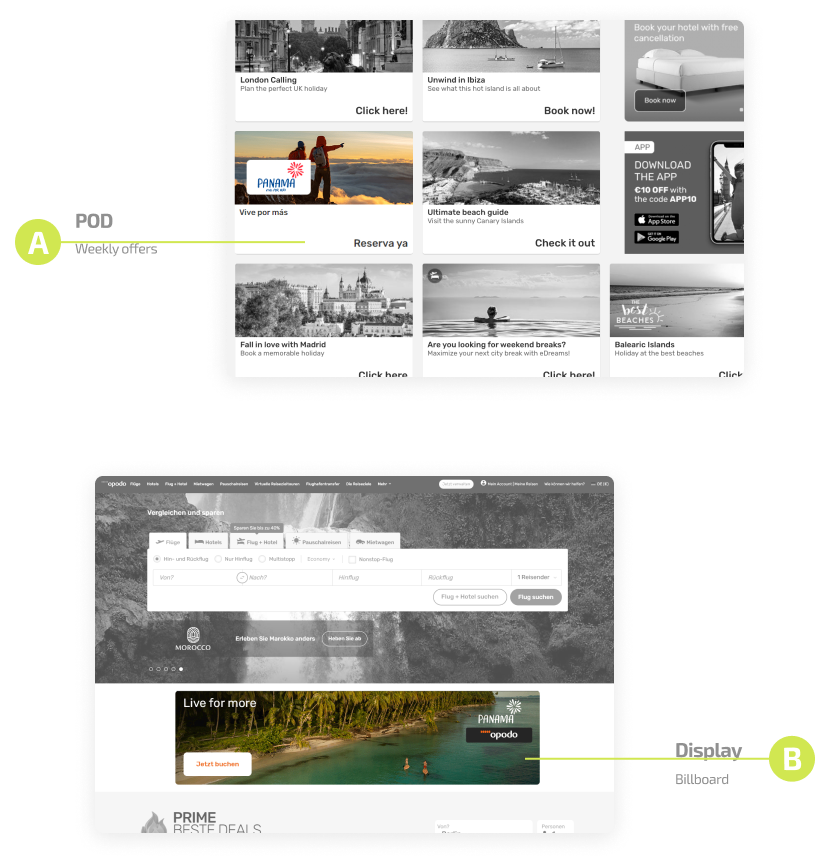 Advertisign solution
A digital campaign was deployed on the network of eDreams ODIGEO sites through several promotional touchpoints that guides the user to an exclusive microsite of Panama. A dedicated content space was created to highlight the main tourist attractions and product offerings: flights, hotels, travel packages, flight + hotel and activities to extend the stay in the destination.
With a 360 product suite to promote the destination: microsites, newsletter, blog content actions, social networks and presence in external media. It targets users with a culture and nature profile. Travellers of medium to high income levels, who are culturally curious and adventurous as well as interested in authenticity and quality.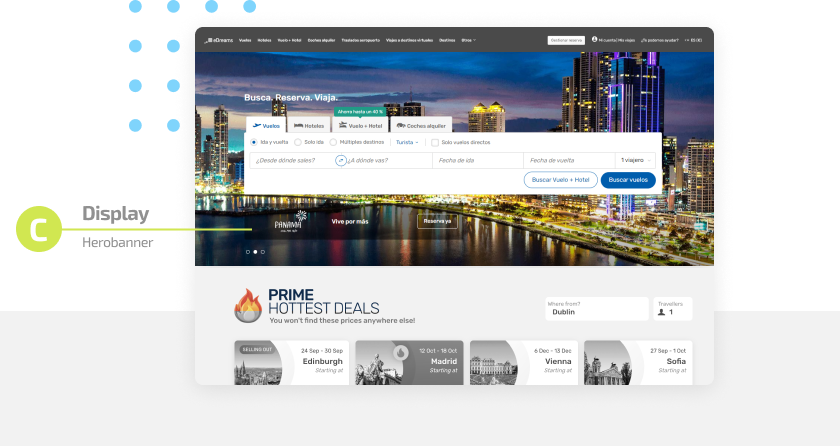 First month of campaign results
Related to the evolution, there is a 16% increase in Flight+Hotel Package sales over the same period pre-Covid (2019).
The targeted audience is very engaged throughout the target markets where we are having a high volume of interactions.
In a rather competitive environment where destinations will try to inspire potential travellers, we aim to position Panama as a top of mind destination in the eyes of different target users. We are helping the destination reach a greater number of tourists and inspire them to choose Panama for their next holidays.
Given the successful start of the promotional campaign, we are looking forward to optimising further throughout the year to maintain our users flow to Panama at top levels.